SANEC delegation at Maputo Corridor Logistics Initiative Gala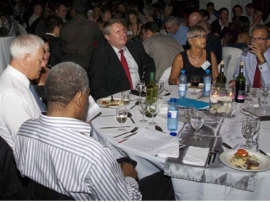 Date: 21-02-2013
Location: Komatipoort / South Africa
A SANEC delegation joined the Maputo Corridor Logistics Initiative (MCLI) at their Gala Dinner and Corridor Update event on the occasion of MCLI's 8th Annual General Meeting. The event on 21 February was attended by 250 member and stakeholders and was held at the Kambaku Golf Club in Komatipoort.

Barbara Mommen, CEO of MCLI, welcomed all the members and stakeholders in the Maputo Corridor to the event, particularly the participation of a high level delegation from the Kingdom of Swaziland, which included His Excellency Mr N. M. Dlamini.
One Stop Border Post
In a joint address by the Chairmen of MCLI, Dr Mathews Phosa and Dr Antonio Matos, the importance of the establishment of the 24 hour One Stop Border Post at the Lebombo/Ressano Garcia border was strongly emphasized, not only to ease trade, but also from a humanitarian perspective as the congestion at the border during the recent December holidays proved.
Efficiency & growth
During other speeches of Mr Siyabonga Gama, CEO of Transnet Freight Rail; Mr Stephenson Ngubane, Acting CEO of Swaziland Railway, and Mr Ilidio Matola, Director for Strategic Planning and Business Development for Mozambique Ports and Railways, it was explained that rail capacity underpins the efficiency and growth of the Maputo Corridor. The three railway companies pointed out that they are committed and Transnet specifically mentioned to making significant investments in the Maputo Corridor through the deployment of new wagons and locomotives which has already contributed to operational efficiency. Mr Gama also emphasized the importance of investment and collaboration of rail, ports, customers and border/customs authorities to harness the potential in the Maputo Corridor.
SANEC had the opportunity to network with a number of importers, exporters, traders and logistics parties including Transnet, Citrus Growers Association of Southern Africa, United Forest Products and Rohlig Grindrod, amongst others.