SANEC Eastern Cape Province Roundtable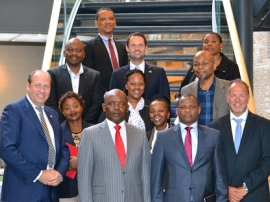 Date: 14-07-2015
Location: The Hague / The Netherlands
Yesterday the Eastern Cape Province Roundtable took place in the Wolrd Trade Center in The Hague. His Excellency Ambassador Mr. Vusi Bruce Koloane and the Honorable MEC Mr. Sakhumzi Somyo, both gave valuable insight into the opportunities that lie within the Eastern Cape Province for Dutch Businesses to venture into.
The Ambassador elaborated and spoke about the long lasting relationship between South Africa and The Netherlands and how it is important to maintain these ties, by establishing economic and business connections through the various Provincial arms of the government that have projects, which the Dutch Business Community can play a solid role in collaborating with Locally based Black-owned Businesses in South Africa, to share skills, knowledge and Developmental strategies & experience that will benefit the economy of the country.
We at SANEC were also very thankful that The Eastern Cape Province MEC Mr. Sakhumzi Somyo elaborated on opportunities that are present in the province. He spoke about discussions regarding further port development possibilities and cooperation between the Buffalo City (Eastern Cape) with the Port of Rotterdam since the Eastern province is the is the only province with two busy ports in the country, The MEC further stretched his appreciation to SANEC for organizing this meeting for the delegation.
The MEC gave more information on the PHAKISA Operation as well as the COEGA Industrial Developmental Zones, which he saw as an attractive place for Dutch investors wanting to establish operations in South Africa. The MEC gave top reasons on why investing in COEGA would be beneficial for investors, and these included; Tax Incentives, rebates and customs controlled areas.
After the roundtable our guest were given the opportunity to ask questions to the Ambassador and The MEC of the Eastern Cape Province regarding possible assistance on acquiring information for possible partnerships and business collaboration in the eastern province.
Following the Roundtable the 25 companies that attended the Eastern Cape Roundtable were given the chance to enjoy drinks and network with one another as for the high profile delegation and His Excellency Ambassador Mr.Vusi Bruce Koloane himself. We would like to thank everyone that participated, which in turn contributed to the Roundtable being a success.
We hope to see you at our next event!
The photos of the event are on our SANEC Facebook page and can be viewed via the following link