Inspirational and Entrepreneurial SANEC Gala Dinner in Johannesburg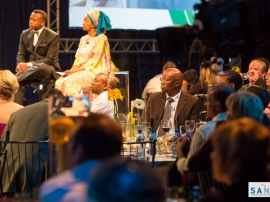 Date: 07-11-2013
Location: Johannesburg / South Africa
There are not many occasions which involve ambassadors, captains of industries, entrepreneurs and a full out studio filming the final episode of South Africa's most innovative reality show. This however, was the reality at the SANEC Gala Dinner and The Big Break Legacy's Grand Finale.
On Thursday the seventh of November we celebrated the partnership between SANEC and the Big Break Legacy TV Show in the form of a night with great performances, intriguing presentations and of course delicious foods. Guests of honour were Mrs Pumla Ncapayi, DDG Trade and invest of the DTI; Mr Mcebesi Jonas, Economic Development MEC of the Eastern Cape Province; Mr Charles Skoati, Economic Development MEC of the Limpopo Province; Mr Mafika Nkwanazi, Chairman of the Board of Transnet; Mr Brian Molefe, Group CEO of Transnet and His Excellency Andre Haspels, Ambassador of the Netherlands to South Africa and Mr Bonang Mohale, Chairman of SANEC.
It was definitely a memorable event which we hope will be repeated in the following years. One of the highlights of the night was the presentation of the Big Break Legacy-SANEC Enterprise Development Award to Mr Brian Molefe, Group CEO of Transnet. This award honours Transnet's leadership in enterprise and supplier development in South Africa. SANEC and the Big Break Legacy hope that this award will inspire other companies to strive for the excellence that South Africa deserves.
Last but not least we would like to extend our gratitude to our sponsors; Philips, Heineken and TPG Academy. Without your support, this evening would not have been possible.