SANEC Knowledge Tour 2014: South Africa BBBEE Guide & Improving Financial Performances in Rotterdam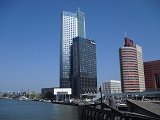 Date: 09-09-2014
Location: Rotterdam / The Netherlands
SANEC Knowledge Tour 2014: South Africa BBBEE Guide & Improving Financial Performances in Rotterdam

On Monday the 9th of September the Southern African – Netherlands Chamber of Commerce presented the first SANEC Knowledge Tour: a seminar on South Africa's BBBEE Guide and on how to improve your financial performances.
The seminar was held on the 44th floor of the Deloitte – Maastoren in Rotterdam. After a welcome speech given by Frank Bracht, Partner at Deloitte Tax Advisor, SANEC General Manager Mark Agterdenbosch launched the SANEC Knowledge Tour with a presentation about SANEC BBBEE Desk. The desk's aim is to educate companies on the amended legislation as well as to highlight the implications and opportunities of the BBBEE legislation. After this, Mr Andile Tlhoaele, key-note speaker, held an in-depth presentation. Mr Tlhoaele has a long history of advising private parties on how to become BBBEE compliant and on supporting public parties in South Africa on how to clarify the BBBEE regulation. His presentation covered the do's and don'ts of African regulations and participants had the opportunity to directly ask questions. Deloitte's Tax Advisors Remy Geert spoke about 'Customs' and Stefanie de Pater on 'Transfer Pricing and Exchange Control'. Mobin Naser-business developer at Ebury gave us a clear financial view on EUR/ZAR & USD/ZAR. The successful event ended with a networking and wine reception!
SANEC would like to thank Deloitte, our guest speakers, Het Wijnhuis Culinair and all the participants for their contribution to this SANEC Knowledge Tour.
Some 'Finance' details about South Africa:
South Africa maintains exchange control regulations that restrict the free flow of capital in and out of the country. In practice, we experience that the exchange control regulation seem to be "under the radar". From a customs perspective, there are many facilities that are worth exploring, such as the Free Trade Agreement with Europe, allowing reduced or even nil customs duties upon importation.
Transfer pricing applies to intercompany transactions between related companies, located in different jurisdictions. Since transfer prices have major impact, tax authorities in both the Netherlands and South Africa require correct documentation of intercompany transactions. The partners at Deloitte will provide you with first-hand knowledge and experience, learn the do's and don'ts of African regulations and pose all questions that come to mind.
Presentations:
SANEC on BBEEE Desk by GM Mark Agterdenbosch
Deloitte on Transfer Pricing and Exchange Control by Stefanie de Pater
Deloitte on Customs by Remy Geert
Ebury on Financial view on EUR/ZAR & USD/ZAR by Mobin Naser
South Africa BBBEE by Andile Tlhoaele
For pictures click here