SANEC Knowledge Tour: Joint Venture, the way to do business in Southern Africa?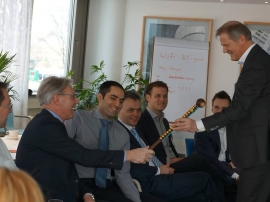 Date: 05-02-2015
Location: Utrecht / the Netherlands
On the 5th of February the first Knowledge Tour of 2015 took place at the headquarters of Berenschot in Utrecht. The joint venture of consultancy firm Berenschot, member of the SANEC Board, and accounting firm Mazars was the inspiration to organize the Knowledge Tour. Various SANEC members presented their expertise on several topics during this Knowledge Tour.
Host Fons the Zeeuw, responsible for the Mazar-Berenschot office in South-Africa, opened the event with a presentation on the road to a successful joint venture. General Manager Mark Agterdenbosch offered Fons de Zeeuw a small gift as gratitude for hosting this year's first Knowledge Tour at Berenschot. Director of 4Human Gorep and founder of Talking Stick Institute, Frank Rekers elaborated on his experiences of starting a joint venture and explained athe idea of Talking Stick Institute for a different manner of communicating.
Alette vonk of Itim International held a presentation on the intercultural communication and cultural difficulties that can be experienced with partners in different continents. Ebury's business developer Mobin Naser and chief risk officer Enrique Diaz-Alvarez from New York shared their ideas on current market trends, such as the 5 Major Foreign Exchange Risks to inform companies which are doing or planning to do business in Southern Africa and also demonstrated a case study on the fluctuating currency trades with regards on the South African Rand.
The Knowledge Tour has been followed by an interesting networking cocktail where members had the possibility to network while enjoying a Bos Ice Tea or one of the several South African wines provided by Berenschot. Furthermore, this networking cocktail has contributed to the possibility to achieve new partnerships among SANEC members. We believe that the members have fully understand in their way, how a joint venture may be the way to do business in Southern Africa. We specially wish to thank all the speakers for sharing their knowledge and Bos Ice Tea and Berenschot for without them this event would not have been such a great success.
Presentation Frank Rekers, 4Human Groep
Presentation Alette Vonk, Itim International
Presentation Mobin Naser & Enrique Diaz-Alvarez, Ebury
You are welcome to visit our Facebook page to view the photos of the day. Don't forget to like!