SANEC Matchmaking and Networking Event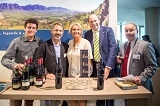 Date: 07-04-2016
Location: Cape Town / South Africa
SANEC, fCN and RMB FNB had joined forces to organize a successful SANEC matchmaking and networking event, in honour of the Dutch CEO delegation from the founders Carbon Network Trade Mission to the Western Cape. We were very pleased and fortunate to welcome so-many of our guests on th 28th Floor at the RMB FNB headquarters in Cape Town's highest/tallest building on the 7th of April.
The guests were welcomed by FNB Provincial Head Mr. Steven Claassen. Furthermore, fCN CEO Merlin Melles and SANEC General Manager Mark Agterdenbosch kicked off the event to present the delegation and the partnership between fCN and SANEC. Mrs. Celeste Fauconnier of political and economic analyst at RMB who specializes in sub-Saharan Africa region market environments had afterwards, given a presentation about 'Where to invest in Africa' and lastly, the CEO of WESGRO, Mr.Tim Harris presented on various Investment Opportunities in the Western Cape and enlighted the strong economic relationship between the Western Cape and the Netherlands. The Netherlands is positiond as number one export market for fruit and vegetables from the Western Cape for instance.
The presentations were followed by Dutch Consul General Bonnie Horbach, who closed all presentations and opened the Matchmaking Networking event for everyone. SANEC of course, organized the matchmaking sessions where Dutch companies were matched with South African companies in order to establish partnerships! We hope these sessions were fruitful and have formulated a starting point for new business ventures.
During the event, the wine had been sponsored by Slanghoek wines, for those who had enjoyed the fine and rich taste, should note that it can be ordered via SANEC Member Hans Lippens: [email protected] . Below are the wines that were presented at the event:
| | |
| --- | --- |
| Slanghoek Private Selection Chenin Blanc | €.5,20 excl.Btw |
| Breedeweelde Classic White | €.5,78 |
| Zonneweelde Chardonnay | €.8,85 |
| Breedeweelde Cape Red | €.5,20 |
| Slanghoek Private Selection Shiraz | €.7,09 |
| Zonneweelde Avontroodt | €.10,73 |
| Slanghoek Red Muscadel | €.7,33 |
We are proud to look back at a productive afternoon, that allowed guests to meet potential business partners and to strengthen business in and between Southern Africa and the Netherlands.
Please click here for the pictures