SANEC members strengthen ties with German entrepreneurs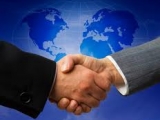 Date: 25-07-2012
Location: Country club, Johannesburg / South Africa
SANEC is expanding its network and co-hosted a business luncheon with the German Chamber of Commerce and Industry. At this luncheon, Daniel Mminele, Deputy Governor of the Reserve Bank, shared his expert insights about the economic growth of South Africa.
According to Mr. Mminele, fixed investments by the private and public sector are the key to economic growth and job creation in South Africa. Although low inflation rates and decreased interest rates provide a basis for sustainable growth, there are limits to what monetary policy can do for economic growth.
The business luncheon was a great opportunity for Dutch entrepreneurs and SANEC members to learn about the economic environment of South Africa and to strengthen the ties with German entrepreneurs.