SANEC – NABC New Year's Reception @ Heineken Experience Center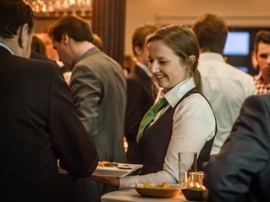 Date: 17-01-2014
Location: Amsterdam / the Netherlands
Cheers to a new year! SANEC celebrated the start of 2014 at the Heineken Experience in Amsterdam on 17 January.
The reception was opened by Mr. Siep Hiemstra, Regional President of Heineken International, followed by words of welcome of Mark Agterdenbosch, General Manager SANEC and Bob van der Bijl, Managing Director at NABC.
Key note speaker Mr. Simon Smits, Director General of Foreign Economic Relations of the Netherlands Ministry of Foreign Affairs, elaborated on the potential of the African market for Dutch organizations. Speeches were followed by an accommodating networking cocktail allowing for a relaxed yet productive atmosphere with over 250 members of both SANEC and NABC attending.
Pictures can be viewed on this website, or on our Facebook page.