SANEC & NABC start 2015 with a wonderful networking cocktail!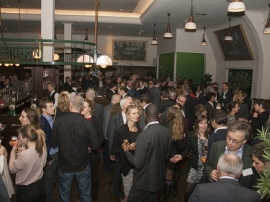 Date: 21-01-2015
Location: Amsterdam / The Netherlands
Wednesday 21 January 2015, Heineken, Amsterdam

Last Wednesday, SANEC and NABC joined hands and organized the New Year's Reception at the Heineken Experience Centre in Amsterdam. The reception was hosted at Heineken thanks to SANEC board member Siep Hiemstra President Africa & the Middle East of Heineken International. More than 300 people were present at the official opening of a beneficial and successful 2015. The core purpose of this reception was to network. The attendance consisted of companies' representatives, delegates from several Ministries and counselors from African embassies.
The host Rob Marijnen, Export Director Africa/Middle East at Heineken, addressed the audience on behalf of Heineken a warm welcome. General Manager Mark Agterdenbosch en Bob van der Bijl gave a traditional South African statue from Limpopo to thank Heineken for their hospitality, and for their commitment and support to SANEC. Bob van der Bijl of NABC held a goodbye speech.
The evening culminated in where it started: networking, chatting, sharing ideas and experiences and drinking. SANEC and NABC wishes to thank Heineken for offering this wonderful location for this event.
You are welcome to visit our Facebook page to view the photos of the day. Don't forget to like!