SANEC SADC Ambassadors Luncheon 2015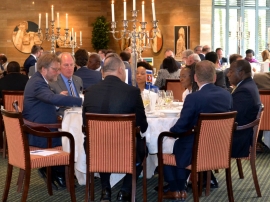 Date: 22-04-2015
Location: Wassenaar / The Netherlands
The tradition continues and once again SANECs 6th Annual SADC Ambassadors Luncheon took place in Kasteel de Wittenburg in Wassenaar, the Netherlands on the 22nd of April.

First we would like to thank all the attendees for joining the SADC Ambassadors luncheon. The venue, esteemed speakers and diverse guests contributed to making it an exceptional afternoon.
Our keynote speaker Mr. Walter Van Kuijen, Head of Global Government and Public Affairs at Royal Philips, elaborated on the work that Philips International is currently doing in the African context, under the heading of " Strengthening Local Innovation Strategies for Africa".
Our second speaker Mr. Gertjan Meeuws, a Dutch Horticultural Engineer, highlighted the fact that Dutch Innovation can be shared amongst African nations for all to benefit from, a great example of building partnerships, in which economic sustainable transformation for all will be evident in the near future. Mr. Meeuws has put forward a radical new approach to growing food locally in closely monitored conditions: environments he calls "plant paradise".
Members and candidate members had the perfect opportunity to network and connect with new SANEC contacts and discuss refreshing topics and business opportunities.
SANEC was pleased to welcome 13 of the 15 SADC Ambassadors and economic attachés, each represented their country table.
In particular, we would like to thank the current SADC Chairman H.E Ambassador Tadeous Tafirenyika Chifamba, ambassador of the Republic of Zimbabwe to Belgium, for his Words of Welcome on behalf of the SADC. Furthermore, our appreciation goes out to Mr. Walter Van Kuijen from Philips and Mr. Meeuws from Plenty50 for their fascinating presentations that both enlightened and inspired us.
You can find the photos of the event on the SANEC Facebook.