SANEC's End Of Year Wine Tasting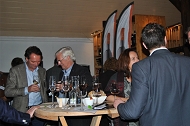 Date: 09-12-2015
Location: Soest / The Netherlands
Last Wednesday - 9 December 2015 - SANEC hosted its End of Year Wine Tasting, at Wijnboerderij Soest. We are proud to look back at a successful evening as guests enjoyed glasses of delicious South African wines, made new connections and were able to win a 3 night stay at the beautiful Zandspruit Bush & Aero Estate in Hoedspruit, South Africa. We would like to thank 5 of our valued members, Cape Dutch, het Wijnhuis Culinair, Aaldering Vineyards & Wines, Grande Provence and Wines of South Africa for providing special offers for our members to take home.
If unfortunately you were unable to attend, it is still possible to order these top wines for the Christmas holidays from our four members:
· Grande Provence - Larry van den Bolsem
· Het Wijnhuis Culinair - Hans Lippens
· Cape Dutch Wijnkopers - Rob Oprel
· Aaldering Vineyards & Wines - Femke Pengel
Please click here for a photographic impression of the evening.
We hope to see you at one of our upcoming events!