Seminar Agribusiness Opportunities in Zimbabwe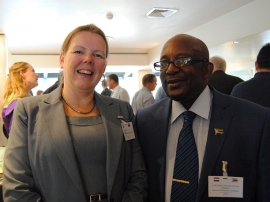 Date: 17-09-2015
Location: Leidschendam / The Netherlands
Seminar Agribusiness Opportunities in Zimbabwe
On the 17th of September 2015, SANEC and NABC in assignment of the Embassy of the Royal Kingdom of the Netherlands and RVO, organised a seminar on agribusiness opportunities in Zimbabwe. Several entrepreneurs, organisations and institutions visited the seminar in Hotel Mercure Leidschendam to connect, exchange interests, and network.
After a warm welcome to all the entrepreneurs, organizations and institutions by H.E. Ambassador of the Republic of Zimbabwe in Brussels, Belgium Mr. Tadeous Tafirenyika Chifamba, H.E. Ambassador of the Kingdom of the Netherlands in Harare, Zimbabwe Mrs. Gera Sneller responded with kind words why these groups should invest in Zimbabwe. Both ambassadors addressed the audience with passionate, inspiring opening speeches about the upcoming opportunities in Zimbabwe, and how to operate in this challenging country.
During this afternoon, various speakers were present to show their interest and share their experiences in Zimbabwe. The sub-sectors with the most promising opportunities that were discussed in this seminar are grain, tuber crops, oilseeds, horticulture and livestock. Our first speaker, Dennis Beunk, CEO Brightface Enterprise, presented several facts about the attractiveness of Zimbabwean agribusiness. Aart Nugteren, owner of Luxaflor Roses, continued with an eye-opening experience story about doing business and living in Zimbabwe. The third speaker, Ben Zwinkels, chairman at AfricInvest, spoke about financing your business in Zimbabwe. Finally, Peter Niekus, desk manager Africa Rabobank, made it clear that Dutch institutions in the Netherlands support Dutch businesses in Zimbabwe. Unexpectedly, Mr. Moses Mlambo from the Commercial Bank of Zimbabwe gave us a short presentation concerning the financial world in Zimbabwe, and how the CBZ contributes to small and medium enterprises.
It is clear that the general interest in Zimbabwe has grown tremendously, compared to previous Zimbabwe events. At the seminar, members and candidate members had the perfect opportunity to network and connect with new SANEC and NABC contacts to discuss refreshing topics and business opportunities. We would like to thank everybody for making this a successful and highly interesting event. Please find here the Market Survey Report Zimbabwe from the Ministry of Economic Affairs.
You can find the photo album on the SANEC Facebook page.
We hope to see you again at our next event!