Seminars in Johannesburg and Cape Town: the Netherlands, gateway to Europe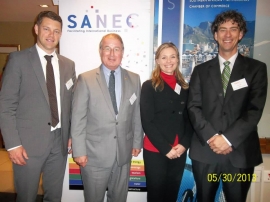 Date: 05-06-2013
Location: Johannesburg and Cape Town / South Africa
South African entrepreneurs are exploring possibilities in the Netherlands! On Tuesday 28 and Thursday 30 May seminars on investment opportunities in the Netherlands took place at the offices of Cliffe Dekker Hofmeyr in Johannesburg and Cape Town.
The seminars were initiated by the Netherlands Foreign Investment Agency, the Amsterdam Airport Area and Netherlands Embassy. SANEC organised the logistics, such as sponsors, invitations and local speakers. Both seminars were well visited with respectively 35 and 46 participants in Johannesburg and Cape Town.
Lively & down-to-earth
Marco Smit, representing the Netherlands Foreign Investment Agency, gave a lively and down-to-earth presentation on opportunities in the Netherlands supported by examples and interesting statistics. Paul van den Brink, who presented in his capacity as international sales manager of the Amsterdam Airport Area, focused on the strategic position the international airport of Amsterdam and the port of Rotterdam fulfil.
Pro-business mentality
In Johannesburg a representative of Sasol informed the audience on his experiences dealing with the Netherlands. A number of Sasol's operations are based in the Rotterdam port in the Netherlands.
He mentioned the favourable tax-climate, good standard of living and pro-business mentality of the Dutch as main reasons for doing business with the Netherlands.
Sharing experiences
Hans Evenhuis, ex SANEC Board member and semi-retired from Cliffe Dekker opened Cape Town's seminar sharing his experiences with working with the Netherlands. Mr. Evenhuis, has during his career, engaged extensively with intra-continental operations between South Africa and the Netherlands.
Cliffe Dekker invited the participants to her in-house bar for a drink and a bite.