The Netherlands- Swaziland Tourism and Investment Forum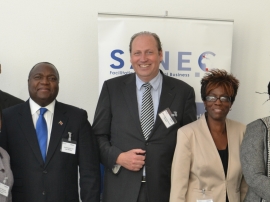 Date: 12-03-2015
Location: Rotterdam / the Netherlands
On the 12th of March SANEC premiered another inspiring event, verifying that SANEC remains at the forefront of promoting business opportunities for our members looking to invest in countries in the SADC region. The first Swaziland Tourism and Trade Forum took place at the Deloitte Headquarters (Maastoren) in Rotterdam, Netherlands.
The Ambassador H.E. Joel M Nhleko of the Kingdom of Swaziland Republic to the Benelux and Permanent Mission to the European Communities, and Chairman of SANEC in the Netherlands, Mr. Frans Engering opened the Forum. Followed by the signing of the letter of Intent by Mrs. Phumelele Dlamini (CEO of SIPA) and Mr. Frans Engering (Chariman of SANEC). Which officially declares that SANEC and SIPA are currently negotiating a contract to promote and develop economic relations by providing business communities in Swaziland with a platform through which they can present themselves to the Dutch public and private sector and vice versa.
The Forum continued with Mr. Bongani Dlamin, Marketing Manager of the Swaziland Tourism Authority, giving an insightful presentation on the Tourism sector of the country as for highlighting the opportunities that are present when investing and promoting Swaziland as a credible tourist destination for Dutch citizens. The second presentation gave Mr. Martin Masilela, from the Swaziland Investment Promotion Authority, to discuss the various opportunities that exist within prominent sectors in Swaziland. He also mentioned an engineering and manufacturing Investment opportunity which is looking for partnerships or a collaboration with Dutch engineering firms that are interested in investing.
The afternoon ended with a stimulating networking cocktail, where members got the chance to network whilst enjoying , Bos Ice Tea (company from Capetown that recently introduced their products to the dutch market), as for snack and splendid wines provided by Deloitte. Not to mention, this time was used wisely by the forum participants to network with one another and form new potential partnerships.
You can find the program, presentations and Business Opportunity discussed by SIPA in the links below:
Mr. Martin Masilela's Presentation
You are welcome to visit our website and view the pictures