The SA - Netherlands Chamber of Commerce Co-Production Dialogue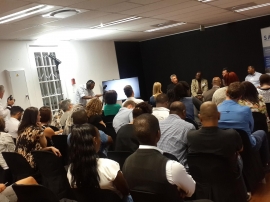 Date: 03-03-2016
Location: Johannesburg / South Africa
Learning about film was the order of the day.
SANEC hosted a film co-production dialogue networking event in partnership with The Fort on the 3rd of March 2016 (Johannesburg). The aim of the event was to highlight the benefits of a co-production treaty which was signed by the Netherlands and South Africa last year in December 2015 at Netherlands (The Hague). The panellist enthralled the audience with great topics as to how the two countries are to share resources and grow production properties. Panellist guests were Terrance Khumalo from the National Film & Video Foundation (NFVF), Jeroen-Louis Martens from Embassy of the Netherlands, David Selvan- well renowned film producer, Lehlohonolo Mokhosi from the Department of Trade and Industry (DTI) and the host - Shukri Toefy, CEO of The Fort.
Topics which were discussed extensively included finances contribution for film makers and production houses as to how this treat will benefit them and benefit the industry at large. The creative elements on the basis of what kind of films makes it within the global scale also were addressed. The dialogue between the panellists also took to the floor where the audience got an opportunity of asking questions.
Please click here for the pictures.