Transport and Logistics in South Africa seminar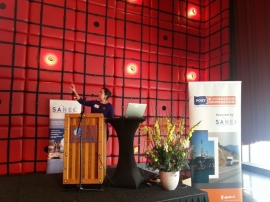 Date: 12-05-2014
Location: Rotterdam / the Netherlands
The STC-Group main building in the port of Rotterdam hosted the 12 May seminar on Transport and Logistics in South Africa, facilitated by SANEC and RVO
One of the speakers of the events was Nadia Viljoen, from GAIN (Growth and Intelligence Network). She provided an interesting and eye opening presentation on the market analysis publication 'the South African transport and Logistics sector'. GAIN drafted this report commissioned by the Embassy of the Kingdom of the Netherland. A copy is available for SANEC members and network upon request.
Furthermore, the 36 attendees (mainly Dutch companies involved in transport and logistics) had the opportunity to listen to Krishna Reddy from Transnet who elaborated further on these main subjects. Gert-Jan Nieuwenhuizen from Port of Amsterdam took the opportunity of introducing himself and his company, where he stated that Port of Amsterdam is willing to make new connections and do business with interesting parties.
Lastly, Ms. Hanneke Bogaerts gave an update on the Economic mission to South Africa with Minister Ploumen 7-8 June 2014. More information on this mission can be requested at RVO.
SANEC would like to give thanks to Ms. Tineke Mulder of the Dutch Embassy in South Africa for talking us through this event and to Albert Bos for his opening speech. Honorary guest of this day was Ms. Marisa Gerards, the upcoming successor of Ambassador André Haspels at the Netherlands Embassy in Pretoria.
Ms. Gerards will also be attending SANEC's 20th of May SADC Ambassador Business Luncheon. More information can be found here. If you wish to subscribe, please contact Caroline de Bruin.
Pictures of the event can be found on our Facebook page, don't forget to LIKE!