Volvo Ocean Race Seminar 'The Human Factor'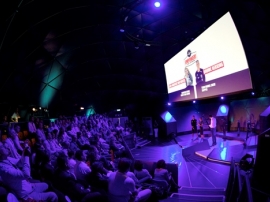 Date: 18-11-2014
Location: Cape Town / South Africa
Volvo Ocean Race Seminar 'The Human Factor'
Together with Volvo Ocean Race Team Brunel sponsor and official team coach Schouten Global, a European market leader in soft skills, team performance and leadership development, SANEC organised several successful networking events in Cape Town.
Over 120 SANEC members and stakeholders joined in the Leadership Seminar on 18 November. Professional trainers and coaches of Schouten Global presented the importance of the Human Factor to optimize the performance of both corporate companies as well as sport teams.
Skipper Bouwe Bekking of Team Brunel and Volvo Ocean COO Tom Touber inspired the audience with their leadership views, experience and skills providing an energetic morning for all SANEC members."