Well attended New Years reception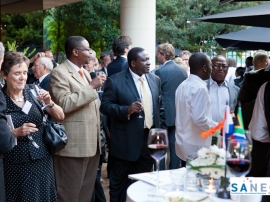 Date: 30-01-2013
Location: Johannesburg / South Africa
The joint New Years reception on the 30th of January was a big success. The Dutch Ambassador H.E. André Haspels welcomed the 240 guests at the Hilton Hotel in the heart of Sandton. Roelf Meyer, the chairman of the South African Defence Review Committee, was reputable key note speaker. He devotedly spoke about the current political and economic position of South Africa, als in relation to to the recent ANC leadership elections. The address was concluded with an interactive Questions & Answers session.
Froke Gilsing, the General Manager of SANEC in Johannesburg reflected briefly on SANEC's network strengths and the importance of the transformation to a modern, strategic and African focused SANEC strategy.
Bonang Mohale the new chairman of SANEC (Chairman and Vice President of Shell South Africa) , was introduced by Mrs. Gilsing and introduced himself and shared his thoughts and ideas on the mandate and plans of SANEC in 2013. He also announced some events and new developments like the European chamber being hosted in the new offices of SANEC Johannesburg in 2013.
During the reception with life jazz music and cooking, the guests at the garden of the Hilton Hotel mingled and networked till late in the evening.
SANEC would like to sincerely thank the Hilton Sandton Hotel for its generous hospitality and contribution to this inspiring networking event.