Zambia's 50 Years of Independence Celebration and Business Networking event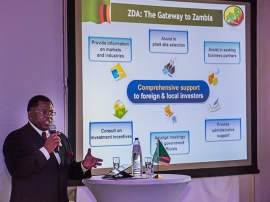 Date: 23-10-2014
Location: Brussel / Belgium
Zambia's 50 Years of Independence Celebration and Business Networking event

To celebrate this Golden Jubilee, the Embassy of Zambia steered by the H.E Mrs Grace Mutale Kabwe, invited SANEC and a number of distinguished guests. Among the guest were Ambassadors of Mozambique, Botswana, Lesotho, Namibia, Angola and Zimbabwe to this magnificent and memorable event at Birmingham Palace in Brussel on Thursday 23rd October 2014. Phillips (SANEC member) was a sponsorship partner of this event. This occasion served as a great opportunity for all looking to do business in the country, to get introduced into Zambia's Political and Economic stable climate, as well as view the investment opportunities that currently exist in the country.
In the last 50 years the country has successfully undertaken many steps towards creating a conducive climate to conduct business. The independence has brought Zambia to great political and economical stability, as well as great Investment opportunities that the country is aiming to achieve. This is realised with support from the international community. To strive forward, the government is committed to enhance Zambia's trade and economic development with the world. The event also included a showcase on Zambia as a prime tourist destination.
The Business Networking Event took place prior to the reception with a specific agenda: "Doing Business in Zambia – Incentives & Opportunities". The Business Networking Event stood as a basis of opportunity for companies in the Benelux Region to explore business opportunities through information sharing. Zambia's Minister of Commerce, Trade and Industry were the Guest of Honour. In attendance The Director General Mr. Patrick Chisanga of The Zambia Development Agency (ZDA) accompanied by his officials, to give out information regarding the necessary particulars regarding the implementing of trade and investment policies and programmes for the development of the micro, small and medium scale enterprises (MSMEs) sector as well as Foreign Direct Investments.
You are welcome to visit our Facebook page to view the photos of the day. Don't forget to like!