Agro, Food & Technology Innovatie - en Handelsmissie naar Israel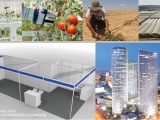 Agro, Food & Technology Innovatie - en Handelsmissie naar Israel
Type: Trade mission
Date: 07-05-2018
Location: Tel Aviv / Israel
7 - 11 mei 2018
In combinatie met bezoek of deelname aan de bekendste internationale Agro Technologie beurs in het Midden - Oosten
Agritech 2018
Over dit evenement

Israël is een Innovatie 'Hot Spot'

Israël is uitgegroeid tot een locatie die internationaal kan wedijveren met innovatie hotspots als Silicon Valley. Was Israel altijd al voorloper in water management en irrigatietechnologie, de innovatie-ontwikkelingen vertaalden zich de laatste jaren ook met name in de subsectoren Smart Pharming (Big Data, Toepassing van Drones), Robotics, Cybersecurity, Nieuwe gewassen en Biotechnology, Alternatieve proteinen en nieuwe systemen.

Deze bedrijvenmissie laat u kennismaken met bijzondere Israëlische bedrijven in de groeisectoren, en geeft toegang to diverse netwerkbijeenkomsten.Het programma biedt tevens deelname aan AgriVest 2018, met lezing door prof. Louise Fresco (Voorzitter R&D Wageningen Universiteit) en een bezoek aan de Agritech 2018. Aanvullend verzorgen wij gepersonaliseerde matchmaking.

Deelname aan Holland Innovation

Lounge op Agritech 2018 (optioneel)

SANEC/NAFTC- AFRICA neemt met een groep Nederlandse bedrijven deel aan de beurs middels een gezamenlijke stand. Deze wordt door een professionele hostess bemand die de verschillende bedrijven kan vertegenwoordigen, waardoor u vrij bent om op of buiten de beurs afspraken te hebben. De beurs is een must voor iedereen die actief is in productie, marketing, R&D in de verschillende de land- en tuinbouw sectoren, zowel direct als indirect. Het is een relatief kleinere beurs maar met een zeer groot bereik door haar bezoekers uit Israël, het Midden-Oosten, Aziatische en Afrikaanse landen.

Voor wie?
Investeerders, onderzoekers en bedrijven die actief in R&D, serviceverlening, security en
productie in de Land- en Tuinbouw sectoren. Levensmiddelenontwikkeling en Water Management, Aquaculture
CLICK HERE FOR MORE INFORMATION https://www.naftc-africa.com/single-post/2018/02/09/Agro-Food-Technology-Innovatie--Handelsmissie-naar-Israel-8---11-mei-2018
Kind regards SANEC Projects
Mr Mark Agterdenbosch
General Manager SANEC emea