SANEC & Rabobank Business Seminar: Western Cape Government and Farmers Delegation to The Netherlands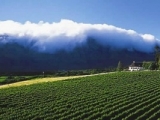 SANEC & Rabobank Business Seminar: Western Cape Government and Farmers Delegation to The Netherlands
Type: Seminar
Date: 07-02-2017
Location: Barendrecht / The Netherlands
On Tuesday the 7th of February 2017, SANEC will be kicking off the year, by welcoming its first incoming trade delegation from South Africa, specifically from the Western Cape. The delegation will comprise of 5 farmers from this region who will be in The Netherlands on a market research study accompanied by the Western Cape Government: Department of Agriculture. The Western Cape Department of Agriculture in South Africa does this on a yearly basis as part of a capacity building initiative targeted at smallholder/ emerging fruit farmers.

SANEC and its member Rabobank, will be hosting the delegation through an afternoon business seminar, to give our members and non-members the opportunity to meet the delegation, as well as create potential partnerships and build on future business opportunities for all who will be present on the day.

Your participation would therefore be highly appreciated. SANEC looks forward to welcoming you on the day.