April 15th, 2014
Bram van Wijck - Mavu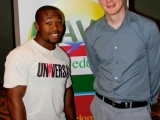 Name: Bram van Wijck
Place of residence: Johannesburg
Name organization: Mavu – Sport Development
What is the core business of your company?
We develop sports and close the gap between grassroots and elite. We implement programs that centre around capacity building, to create sustainable sport development. In rural communities or disadvantaged urban areas.
How would you describe the unique concept to holistic sport development that Mavu runs?
It's easy to show you this in the example of Justice Makhale. A young boy who grew up in one of the most rural and mountainous villages of Limpopo. At the age of 22 he pushed Mavu's founder Kenneth Neluvhalani to donate him a bike. Justice enrolled in competitions and ended up the first black cyclist entering the world cup and commonwealth games, signing contracts with MTN and Exxaro. He currently is an instrumental developmental coach in South African mountainbiking. It is these small opportunities that one gives to people who have passion that can change a life, and a community.
We centre our concept around three pilars. Grassroots development, elite sport and institutional development. The grassroots program is the most extensive one. We are involved in rural and disadvantaged commuities to set up school sport competitions, or assist with commuity tournaments and club support. Therefore we develop the skills of unemployed youth by training them into coaches.
Through our eite program we support those athletes who have the talent, but not the personal and financial support to reach to the very top. We therefore guide the athletes with personal support and financial grants.
The last pillar, institutional development, is to ensure the sustainability of our programs. We create platfroms for people to develop their administrative skills and leadership skills in sports development.
What is the difference with sport in the Netherlands?
From my experience as a sport teacher and consultant in the Netherlands I can tell you that in Holland I introduced programs to get the kids back on the streets and in parks in order to make them play more outside. I would say that in South Africa we do the way aroud. We want to get the kids from the street and expose them to organized structures to develop their life skills and create a developing environment. The social impact therefore is hugely important to those kids involved in our programs.
Is there a lot of competition within your branch?
There are very few organizations in South Africa that focus on developing the sport structures through capacity building. There are some organizations that focus on soccer, but also they are very few compared to the need in the counrty. Government focusses more on the recourses than on the capacity building. But what happens to those schools that receive a facility and sport equipment, whilst nobody knows how to teach or play these sporting codes? We are an organization that fills the gap and wants to add value to the development of different sporting codes from the bottom up.
What is the biggest business challenge for your company?
To get proper funding. There have been major donors supporting sport development programs in the country. Especially towards the build up of the Soccer World Cup in 2010. But most of those donors have left or are about to leave. Those were short term investments. No sustainability.
I do think that we need to look at a different aproach nowadays. There are tremendous marketing opportunities by supporting a community sport project that is so visible in the community. It is a way to promote your company and products. The brand identity of those participants involved will raise quickly, as branding is very scarce on a community level.
But also Dutch companies can use it as a tool for their employees to create goodwill by making a project part of their site visits whilst being in the country. A situation where everybody wins.
Why did you become a member of the SANEC network?
We believe in the power of sharing. And I believe that there is a lot of knowledge and experience within SANEC, that might lead to an introduction to the right businesses and institutions. In the fortunate situation this can then lead to one or more fruitful partnerships.
What are Mavu's future plans?
We are in the process of developing two projects that will strengthen the impact on our programs. The first is Knowledge on tour. In partnership with a Dutch organization we offer a study trip to business men or people form the industry. They will visit succesful South African businesses, meet with inspiring people, visit of a community project and spend a day or two in South Africa's wildlife.
The other project is called the mobile coach, where we invite IT companies to help us look into a revolutionary online product that will make coaching and training more efficient.