December 19th, 2012
Elsbeth Bloemert - FMO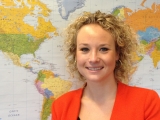 Name
Elsbeth Bloemert, Investment Officer Africa.

Place of residence
The Hague

Company/organization
FMO (Entrepreneurial Development Bank)
Core Business
FMO is the Dutch development bank. We invest in companies, projects and financial institutions in developing countries.
Within FMO there is one team dedicated to Dutch entrepreneurs. The Facility Emerging Markets (FOM - 'Faciliteit Opkomende Markten') -
www.fmo.nl/fom
. FOM stimulates Dutch enterprises to invest in emerging markets and developing countries. FOM provides medium and long term loans to companies or joint ventures in emerging markets that are majority owned or controlled by Dutch enterprises. In many cases, no appropriate commercial financing is available for these joint ventures and subsidiaries for the construction or expansion of a production plant or to buy new equipment. Also, tenors are often too short or excessive security is needed.
Biggest business challenge
FMO believes that long-term profit and viability must go hand in hand with enduring economic and social impact. We invest with the motive that ESG – sustainable environmental, social and governance business practices – are the solution in a world facing a surging population and increased consumption. For companies we work with, integrating sustainability into their core business makes sound business sense.
How does your company differentiate itself from companies in the same branch?
FMO believes sustainability is key. However it would be unfair to say that other bank do not have this values. Personally I do think FMO differentiates itself by strongly focussing on the combination of profit and sustainability.
Why did you become a member of the SANEC network?
Joining the SANEC network will give us the opportunity to meet Dutch entrepreneurs, hear about their experiences and most important to hear from them in what way we support entrepreneurs if commercial finance is not available locally or with their relationship banks in the Netherlands. And not to forget that SANEC consists of a team which makes you enthusiastic and organizes events that are worth going to!
What is your connection to southern Africa?
In all parts of Africa and also in South Africa we conduct business with (Dutch) entrepreneurs for years now. Besides the FOM team (lined up for Dutch entrepreneurs) FMO has done some great investments until now in the southern part of Africa. Because of the great opportunities in this part of Africa FMO has opened its first office abroad in Johannesburg. So if you are based in Africa and you would like to discuss opportunities feel free to step-in the Johannesburg office!
What is your favourite destination and why?
In Africa my favourite destination is Malawi. I was sincerely moved by the beauty of the country (the green hills, Lake Pumulani, Liwonde National Park) and the warm heartedness of the people. I was told Malawi is also called the warm heart of Africa.
Which item can always be found in your business suitcase?
When traveling to a country I always try to bring a book with me which gives me some insight on the history, social situation etc. One other thing which might be nice to mention, when traveling back to the Netherlands it became a sort of tradition for me to bring a local cd back home. It is fun to sit in your car on a Monday (rainy) morning to work and listen to local music from South Africa, Mozambique or any other country. Try it!