December 4th, 2014
Emlyn Bul - Corporate Traveller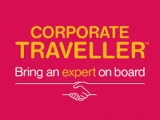 Interview with Emlyn Bul– Corporate Traveller
Name
Corporate Traveller RSA - a Division of the Flight Centre Global Travel Group
Company Location
Corporate Traveller was established in 1993 as the founding corporate brand of Flight Centre Limited. Together with our sister corporate brand, FCm Travel Solutions, Corporate Traveller is now the largest Australian based global Travel Management Company with branches in more than 80 countries worldwide. Corporate Traveller currently operates in Johannesburg, Pretoria, Durban and Cape Town and has plans to expand further into Africa as well as in more South African Business Hubs.
Organisation
As part of the Flight Centre Limited group of businesses, Corporate Traveller can deliver the most competitive prices on all corporate and leisure travel needs from airfares to accommodation, car rental to insurance. Corporate Traveller also benefits from the strong global presence, established industry relations and world-wide recognition of the Flight Centre brand. Across its brands, Flight Centre Limited has a global network of more than 2000 stores and 12,000 staff worldwide.
The Core Business of Corporate Traveller
Corporate Traveller is a "one-stop travel shop", specialising in airfares, both domestic and international, offering the most extensive product range with the best rates globally. Our people are highly trained, so our customers will always receive a quality and personalised experience.

What Customers can expect from Corporate Traveller
Your own dedicated expert will save you time and be there should things go wrong – local, personalised service 24/7 with no call centres. Your travel expert understands your unique requirements and takes care of all your travel needs so you can focus on your core business. We guarantee to save you money – our global negotiating strength, unique product and airfare expertise will deliver real savings to your bottom line. Controls of travel spend – we provide clear reporting with all your travel spend in the one place. We advise you how to save money now and show the opportunities for savings in the future. You do not have to sign a contract – unless you would like one. We pride ourselves on our dedicated service and therefore believe that it is not necessary. We offer you a choice of payment options – you can pay for your travel by credit card or on account to suit your business needs.
Additional Information for the SANEC Network
Interested in finding our more about our services and our company – please feel free to go through to our website: http://www.corporatetraveller.co.za/

Why SANEC Members should be booking their travel through Corporate Traveller.
At Corporate Traveller we are committed to taking the hassle out of frequent business travel. With a dedicated account manager at your fingertips just one call or email is all it takes to book all aspects of your business trip. Our travel management services include: • Account Management • Online Reporting • Free 24/7 Assistance • Airline Failure Protection • Loyalty Programme • Travel App • Online Check-In • Travel Club • All the Extras For any information, or help with your next booking, please feel free to mail me direct on [email protected]