July 11th, 2013
Emmie van Halder - Sandton Boutique Hotel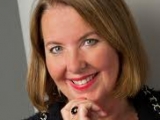 Name
Emmie van Halder

Organization
Sandton Boutique Hotel

Place of residence
I hop between The Netherlands, where my family lives, and Sandton. Both work and the beauty of the country make it very attractive to come to South Africa as often as possible.
What makes Sandton Boutique Hotel special compared to other hotels?
The location of the hotel, in the heart of Sandton and walking distance from the Gautrain, combined with the beauty and tranquillity of the garden and pool. Also, because of the spacious suites and beautiful bathrooms, we attract many frequent travelers, that find this place a home away from home. Guests go running together in the morning or share a drink or a meal. On Friday we offer an open braai where people mingle.
What guests can be found at the Sandton Boutique Hotel?
Many Dutch and international business travellers, who are in Johannesburg frequently or stay for longer periods. During the weekends we also have tourists, often in between the long flight and a trip to Kruger park. One or two days to relax and enjoy the luxury of Sandton before nature calls.
Why South Africa?
The same old story: once you visit South Africa, you fall in love. I have been doing business here for the last 7 years and enjoy it very much. I used to be a frequent guest at the hotel, when the opportunity presented itself to take over the hotel. So I did and I love it.
What is the best tip for business people that travel to South Africa?
Invest in long term relations, people here buy from people they trust and like. It will probably take time to build the relationship and business will not happen over night. But once you are there, the opportunities abound.
How often do you travel yourself?
I travel once a month to South Africa.
What is your favourite hotel (other than Sandton Boutique Hotel) and why?
I also love the Radisson Waterfront in Cape Town. When in Cape Town, I have all my meetings there, at the terrace, facing the ocean and once in a while distracted by jumping dolphins. In fact, we spotted a whalelast year in the middle of a business meeting.
Visit the website of the Sandton Boutique Hotel!