August 16th, 2013
Fons Aaldering - Aaldering Vineyards & Wines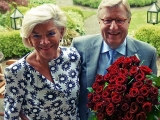 Name
Fons Aaldering
Organization
Aaldering Vineyards & Wines.
Location
Devon Valley, Stellenbosch, South Africa
What is the core business of your company?
Our winery produces a range of boutique wines from estate-grown grapes and we are exporting these wines worldwide. In our home country, The Netherlands, we also operate as a wine distributor to top-gastronomy and private customers.
What makes Aaldering Wines special compared to other wines?
My wife Marianne and I have always been on the lookout for a wine estate which could produce top-quality wines. We originally looked in France and Spain, yet the best terroir and excellent winemaking conditions which we were after was ultimately to be found in South Africa. Which also happens to be the most beautiful country in the world in our opinion.
Our 24-hectare wine estate in Devon Valley, Stellenbosch boasts a unique and special microclimate which results in flourishing wines producing top-quality grapes. Our philosophy to value quality over quantity has resulted in an exclusive range of artisan wines that are characterized by their undeniably focused flavours and aromas. Low yields, a state-of-the-art winery, and a highly sophisticated winemaking process under the watchful eye of young and upcoming winemaker Dustin Osborne are the most important factors behind the creation of the Aaldering wines.
South Africa is the most advanced wine country in the world in terms of sustainability and being eco-friendly. Just this week we received the fantastic news that Aaldering is now a certified 'Enviro Wines' producer. In order to obtain the renowned IPW (Integrated Production of Wine) status in South Africa the pass rate is 65% for sustainability on both Farming and Winery practices. The cellars that score 75% and above, only 6 wineries in total now, are invited to join this elite group. The hard work of the team paid off and we are extremely proud to have achieved this.
Which wines does Aaldering Vineyards & Wines produce?
The current range consists of 7 ultra-premium wines. The trio of white wines consists of a Sauvignon Blanc, Chardonnay and Pinotage Blanc (a Blanc de Noir). Our three classic red wines are aged for 22-24 months on French oak barrels with the varieties being Shiraz, Pinotage and Cabernet Sauvignon-Merlot. We recently introduced the Lady M, an unwooded Pinotage which should be served chilled (15⁰) and is a very appealing and refreshing wine. Soon we will release a limited first edition of a barrel-aged Pinotage rosé, it will be unique in its kind.
Can you tell me more about the brand "Aaldering"?
Aaldering Vineyards & Wines has established itself in high end and luxurious wine specialty stores and top gastronomy throughout several continents. You will find the name on wine lists of esteemed 1, 2, and 3 Michelin starred restaurants as well as on board of Asiana Airlines First Class & KLM Airlines Business Class worldwide.
Which wine is extra special for you?
With Aaldering we take part in the cult revolution of Pinotage as a quality wine, so definitely Pinotage. The 4 types of Pinotage which we make all fit different occasions and cuisine and therefore are all special to me. Moreover, the Pinotage grapes from our estate have produced a 5 star Platter (the so-called South African 'wine bible') wine before, the grapes are highly sought after, so it is our ambition to create our own 5 star Platter Pinotage from the estate-grown grapes over the next few years.
Click here to go to the website of Aaldering Vineyards & Wines