June 7th, 2012
Frank van Grieken - Uniglobe Van Grieken Travel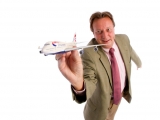 Name
Frank van Grieken

Place of residence
Zoetermeer, The Hague, The Netherlands

Company/Organization
Uniglobe Van Grieken Travel


What is the core business of you company?
We mainly do business travel (90% of our customers), but we also offer custom made holidays to South Africa and the Far East (Thailand, Vietnam, Cambodia, Laos, Myanmar and Indonesia).

What is the biggest business challenge for your company?
We are a service provider, so we want our service to be 100% all the time. To reach that goal, we have to keep up to date with developments in our industry and keep improving. For example, 6 months ago we introduced our SMS tool, which warns passengers when they are able to check in online and when their schedule has changed.

How does your company differentiate itself from companies in the same branch?
Uniglobe has 750 private owned offices worldwide. This means that our service is at a higher level than that of our competitors. Although Uniglobe is a large company, all of our clients get coupled to one of our IATA travel consultants that arranges everything. This makes our service more personal.

What do you think is the most important service you offer to business people?
Our company offers alertness and fast response to every question and our clients are treated as Kings and Queens. Besides our normal services as tickets, visa, hotel, car rental, transfers, taxi, parking we do everything out of the extraordinary. This means that we offer the total package for your business travel or holiday.

How often do you travel yourself?
I travel 4 to 5 times a year to meet with our local agents and check new possibilities in countries that are new to our service. For example, Vietnam is a country that is not yet overcrowded with tourists yet. However, it is an appealing destination, because of its history and the friendly people.

What is your favourite destination and why?
South Africa is a lovely country and a beautiful place to stay. I lived there 25 years ago now one of my twin sons is there for work, living and enjoying the African lifestyle. South Africa has made large improvements, which is very fascinating to see.

Why did you become a member of the SANEC network?
Mainly because I like South Africa. It is a country that has gone through some rough times and we need to help to develop its economy. South Africa is also special to me because of Nelson Mandela. Mr. Mandela is an extraordinary man with an inspiring personality.
How do Uniglobe Van Grieken Travel and SANEC work together?
We are able to offer special group tariffs for the trade missions that SANEC facilitates. Especially for fast decision makers (2-3 months in advance), we can offer a very low ticket price, because of the special group discount. People that decide to join last minute will pay the more expensive day-rate for their ticket.

Why should people plan their holiday or business trips with Uniglobe Van Grieken Travel?
That question is simple to answer! When you are on a business trip, you want to focus on doing business and not on your travel arrangements. Therefore, our office offers service before and during your trip and arranges the total package. Also for a comfortable and arranged custom made holiday trip with family or friends, we offer the total service package. This means you do not have to worry about anything and when needed, you can reach us 24 hours.