March 14th, 2012
Herschel Maasdorp (STC-Southern Africa)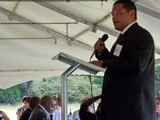 Name
Herschel-Michael Maasdorp - Executive Director and CEO

Place of residence
Fresnaye, Cape Town, South Africa
Bryanston, Johannesburg, South Africa

Company/organization
STC-Southern Africa (Pty) Ltd
Core business
Consultancy and Training in the Maritime; Ports; Shipping & Logistics Sector
Biggest business challenge
Managing a growing enterprise during a global economic crisis, presents specific challenges. It requires strong, consistent leadership that must endeavour to keep shareholders', management, personnel, clients and suppliers happy, whilst resources are thinly spread. Of course, this is the job of any CEO.
My biggest business challenge is maintaining a committed and motivated workforce during the growing phase (transformation) of a business. Insecurity, among personnel, quickly sets in. To lead a big team and nurturing a good "people-focused culture" means that those components such as regularity; being present; communication; consistency and being prompt are part of a recipe, to be followed, to the letter, by the leadership of the company.
Favorite airport
Schiphol, Amsterdam
Which item can always be found in your business suitcase?
I have a hectic traveling schedule. Over the last 10 years, my average is more than 100 flights, annually. My suitcase always contains a collection of my favourite cufflinks and an inspirational read such as "The Manual for the Warrior of Light", by Paulo Coelho.
What is typical for Dutch/South African business culture?
The Dutch is the second biggest investor in the South African economy. This means that there is indeed an established Dutch/South African business culture at play in corporate South Africa, on a daily basis! There is nothing "typical" about this, other than the fact that it is a dynamic business culture….
As a South African, you should never underestimate the depth and width of the business network of the Dutch business community in South Africa. Equally, the Dutch should refrain from simply assuming that a Dutch value-offering is, necessarily, technically, more competent. Blending local content with obvious Dutch proficiency is the way to go!
Who is your entrepreneurial icon?
Brian Joffe – Founder of Bidvest
What are your prime news sources?
News24.co.za; Sky News; Nu.nl
Social media: hype or there to stay?
I use it. It works; socially….here to stay and it will continue to evolve.

Favorite travel destination
The Netherlands; my regular gateway to the rest of Europe
Favorite cuisine
Eastern Fusion