March 16th, 2016
Interview with DN Freight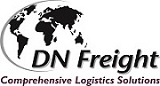 1. How could you best describe your organization?
We are a medium sized, independently owned South African company who specialize in world-wide clearing, freight forwarding and logistics solutions. Through owned offices in Johannesburg, Durban and Cape Town coupled with access to over 6000 freight agents around the world, we are able to offer truly global freight solutions
What makes your products/ company/ service different from others?
We believe the following aspects of our service make us stand out
· We recognize that our professional handling of any clients logistics requirements has a direct impact on the success of their business. Accordingly we put our clients first and are passionate about making each transaction a success.
· We have a team of trained, knowledgeable, industry experts who handle dealings with clients from end to end.
· We customize service to our clients requirements, adding a truly personal touch.
· As members of three prestigious freight networks, we have partnerships with leading freight forwarders, all over the world, enabling us to offer competitive global solutions.
What customers can expect from your company?
Courteous serviceTimely Feedback
Punctual collections and deliveries
Sound advice from professional's
Fair pricing
Personal service
Why did you start working in the industry you do?
Most of the team started working in shipping because of the allure and excitement of working in transport logistics, facilitating global trade for clients & dealing with friends, partners and colleagues all over the world
What have your biggest obstacles been in trying to expand your organization?
The South African economic slowdown, our slow growth rate and poor currency performance effecting our import market into South Africa is a challenge for business growth. Fortunately DN Freight has been agile enough to continue positive growth despite the tough economic climate.
How can SANEC help with positioning of your company?
DN Freight are looking to grow our business dealings with European clients. By joining the chamber, we hope to be put in touch with like minded business people who could use our services to grow their companies.