February 5th, 2016
Interview with Paul van de Vorle - Van den Bosch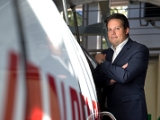 Interview with Paul van de Vorle, Director at Van den Bosch
1. How could you best describe your organization?
Van den Bosch Transporten is an international logistic services provider. Our core business consists of transporting bulk products for the food and chemical industry. By road, rail and sea, our 4000 specialized containers transport a wide range of liquid and dry bulk products. Our growing international network covers the European market, where we started up more than 50 years ago and is extending into the Middle East and Africa as well. We believe in the potential of these new markets and are pleased to offer our services in setting up and optimizing flows of goods.
2. What makes your products/company/service different from others?
We are taking care of the global supply chain activities of our customers and therefore we are continuously searching for smart combinations between transport by road, rail or sea. Supported by top planning and optimization technology, we help customers plan and coordinate the transport of their bulk products. With a wide network of audited and approved partner carriers, we are able to provide resources and local presence. This gives us the flexibility to choose the most cost-effective mode of transport.

3. What can customers expect from your company?
We will offer our customers flexible, cost effective and quality logistics solutions. We also believe in sustainable cooperation and are happy to join our customers in finding new ways to best meet their and their business relations' demands and to save costs by creating the right logistic strategy.
4. Why did you start working in the industry you do?
I started working in the logistics industry in the beginning of 2000. After my internship at Van den Bosch Transporten, I was offered a job and decided to give it a try. Now, 16 years later, I'm still convinced that this was a wise decision. I have learned that logistics is a business that is never dull and boring. Every business case brings new challenges and opportunities. In my current position, I'm responsible for the business development, and freight forwarding. I'm proud to announce that I have also become a member of the Team of Directors since January 2016.
5. What have been your biggest obstacles in trying to expand your organization?
Our biggest challenge in developing our business outside the European borders, was getting feet on the local ground. Thanks to a strong focus on the African market and a network of partners, we have succeeded in doing this in most Sub-Saharan countries. This is emphasized by the opening of our new office in Dubai last year and the opening of a tank cleaning service in Ghana, early 2016. As from January 2016, we also teamed up with a South African local partner named Gary van Niekerk. Gary has been involved in logistics for over 25 years and has earned his good reputation in the forwarding business from South Africa. Together with Gary van Niekerk we will set up a new venture called Aspen International, in which we will be involved in outsourced logistic solutions from South Africa.
6. How can SANEC help with positioning of your company?
We would like to use the services of SANEC in opening doors to entrepreneurs who would like to get in touch with an international logistics service provider that has built up a good reputation in Europe for 50 years and is now spreading its wings to the African continent with the same enthusiasm.
For more information: www.vandenbosch.com or http://deepsea.vandenbosch.com.