November 17th, 2016
Interview with Townshipsmile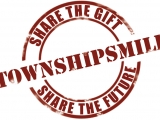 1. How could you best describe your organization?
Townshipsmile imports high quality and trendy laptop sleeves, bags and jewelry with a special story from Africa.
2. What makes your organization/ company/ service different from others?
Townshipsmile is a small company that has personal approach as a high standard. We are proud that we have the exclusivity import rights of our products. Therefore we can offer our clients and business contacts the ultimate Business gifts that no other company offers. I visit our suppliers myself a few times a year to meet them and to report to my clients and business contacts by filming and taking pictures of my visit. The lectures I give at business clubs, Universities and companies are every single time an explosion of business passion mixed with personal experience and dreams.
3. What can customers expect from your organization?
A no nonsense and hands on mentality. We do net sell stories, we offer amazing products and share experiences during lectures: the ups and downs. We believe in 'If you can dream it, you can do it!'
4. Why did you start working in the industry you do?
In 2004 and 2005 I worked on behalf of the Johan Cruyff Foundation and the Ndlovu Care Group as a project manager of a large construction project in the township Elandsdoorn, South Africa. During that time I met many people in the townships who had the will and the skills but not the opportunities to start their own business. Therefore they were unable to create a financial future for themselves and their families. After completion of the construction project and living in The Netherlands again, I have repeatedly traveled to South Africa to meet the same people. After some years, I decided to set up Townshipsmile to upgrade talented entrepreneurs in their business.
5. What have your biggest obstacles been in trying to expand your organization?
To deliver the high quantities my clients order. Because our products are hand made, the productions time takes longer than Europeans are used to. But we will stay unique and therefore continue delivering handmade products. It just takes some more know how and time management in advance….:-)
6. How can SANEC help with positioning your company?
SANEC will be a great help by introducing the iPad and laptop sleeves as Business gifts or employee gifts to their SANEC members. Besides that I can't wait to show the dusty road that I have traveled to come where I am now. During SANEC events or at the members companies, as a motivational talk during a year end, year kick off or special event. I make my dreams come true with Townshipsmile, change the stream of the river and working hard for it. I am convinced that either SANEC and Merel/ Townshipsmile will exchange interesting knowledge and contacts. Can't wait to explore!