November 6th, 2012
John Verhoog - Oxygen For Life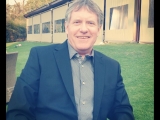 Name
John Verhoog

Place of Residence
Sandton, South Africa

Organization
Oxygen For Life SA (Pty) Ltd. We strive to deliver products and service of the highest quality and to assist companies with their Staff Wellness Programmes.
What is the core business of your company?
Importers and Distributors of Complimentary Health Products for humans and animals. We also export these products to a number of African countries as well as The Netherlands. Indian markets opening up to us for export of animal products.
What is the biggest business challenge for your company?
Rapid changes in global and local market forces.
Favorite airport
Orlando Florida, USA.
Which item can always be found in your business suitcase?
Garmin, regrettably I did not inherit the Dutch seafaring navigation skills.
What is typical for Dutch/South African business culture?
Being from Dutch descent of parents that immigrated in 1947, I have inherited their pioneering spirit and determination to succeed. The Netherlands played a significant role in the history of South Africa and remains an important business investment and trading partner to this day. We are therefore keen to increase our trade with our Global Partner in The Netherlands, Sensipharm, based in Eindhoven.
Who is your entrepreneurial icon?
Donald Trump. He says it like it is, just like me.
What are your prime news sources?
Newspapers and News 24 on Twitter.
Social media: hype or there to stay?
Here to stay. Technology will continue to evolve, albeit at a much faster pace going forward. Very exciting.
Favorite travel destination:
Mauritius and California.