June 2nd, 2014
Marcel en Shadiya van der Berg – Owners at 'Vakantiehuis in Kaapstad.nl'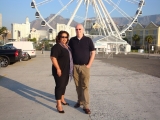 Interview with Marcel en Shadiya van der Berg – Owners at 'Vakantiehuis in Kaapstad.nl'
Dear Marcel and Shadiya, Your company, 'Vakantiehuis in Kaapstad.nl', has been a SANEC member for some time and we're very proud to have you in our network. What feature makes vakantiehuisinkaapstad.nl unique?
Muizenberg is a pleasant beachvillage and still more or less kept secret for huge tourism. It has a fantastic beach in False Bay where sea water temperature is some 8 degrees warmer than on Atlantic Board. As Muizenberg is centrally situated at Cape Peninsular, Muizenberg is a perfect location to explore the Cape.
Why have you chosen Muizenberg?
'Vakantiehuis in Kaapstad' is offering two 5 star apartments in Muizenberg Cape Town , perfectly suitable for those who wish to explore The Cape. The apartments are both situated in Muizenberg, right on the beach of False Bay and near to Surfer's Corner, THE surf spot of Cape Town.
What can customers expect from vakantiehuisinkaapstad.nl?
Customers of 'Vakantiehuis in Kaapstad' can expect a tailor made advise for holiday makers and offer a total package if needed. On arrival at Cape Town International we transfer customers to our apartments and the first shopping is done. We offer a hotel-service during their stay.
What do you consider to be the perfect vacation in combination with an apartment from vakantiehuisinkaapstad.nl?
The perfect holiday is to combine the relaxed stay in Muizenberg and exploring the Cape at the same time .
I have heard that you both have fulltime jobs besides the apartments, that must be busy?
That is correct, and yes ; it is busy, but we love it ! To combine our passion for Cape Town with our 'normal' jobs is giving our lives colour and excitement !
Would you like to pass on additional information to SANEC's network?
We would like to make people aware that Cape Town has its charme througout the entire year; every season is unique and worthwhile to visit.
Meet our members at the Members in Business Cocktail networking events!