December 17th, 2013
Peter van der Velde - Delta Instruments B.V.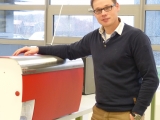 Name: Peter van der Velde
Organization: Delta Instruments B.V.
Location: Drachten, The Netherlands
Could you explain to other SANEC members what Delta Instruments does?
Delta Instruments, an Advanced Instruments company, is a well-established manufacturer of analytical instrumentation for the analysis of milk and dairy products. Our market consists of industries with high quality standards and quality control in the chain of milk and milk products. Delta makes use of an extensive network of Dairy experts.
What is Delta Instruments unique selling point?
For over 30 years the Delta Instruments team has focused on customer satisfaction, technological progress and premier quality.
Quality by design
In which countries and/or regions do you currently operate?
Delta Instruments has a worldwide distributor network consisting of more than 40 distributors. They have in-depth knowledge of the local market and the product portfolio of Delta Instruments and can provide customers with sales and service support on the instruments.
Regions: Africa, America, Asia, Europe, Middle East and Pacific
Why the Southern African Development Area (SADC) region?
Delta instruments expects a growth in the Dairy market in South Africa in the next few years and more demand for the quality of milk. Logical consequence is that there is more demand for better and faster methods of measurement to determine the quality of milk. That is why it is now time to be active in this market.
Why did you chose to become a member of SANEC?
A start with a network that SANEC already has and also by their years of experience in this region.