April 24th, 2012
Pieter van der Manden - Rainbow Collection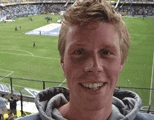 Name
Pieter van der Manden

Place of residence
Amsterdam - Johannesburg

Company/organization
Rainbow Collection
What is the core business of you company?
Rainbow Collection is a CSR branding agency. Creative and strategic Corporate Social Responsibility (CSR) is our field of expertise and our professional passion. We believe in the power of rethinking business models, brand strategies and product development as a vehicle for sustainable growth for your business and society at large.

What is the biggest business challenge for your company?
Changing the status quo in business. We want to think differently and take a leading position in this. In each contact and assignment we do, we make this clear and we convince our partners. However, there is still a big potential and the majority of companies still stick to old business models.

What is typical for Dutch/South African business culture?
Our company started on African soil with the idea to also benefit South Africa during the Wold Cup football. This partnership still lies at the foundation of our company. We partner intensively with AfricaIgnite to keep on working towards a fair and meaningful business.

Why did you facilitate the 'Oranje Campagne' in 2010?
I facilitated the campaign to create jobs in South Africa and to make sure that also South Africa would benefit from the World Cup. Therefore, Rainbow Collection designed orange bracelets together with small producers from South Africa. People that bought a bracelet supported the Dutch soccer team and created employment for hundreds of women from KwaZulu Natal.

What makes the 'Support and Play' campaign different than the 'Oranje Campagne'?
The 'Support and Play' campaign is all about sports. It is set up to gather all the Dutch behind their national team and to support our orange heroes in London and Ukraine during the Olympic Games and the European Championships. We want our athletes to perform well. On the other hand there are young girls and boys worldwide who do not have access to sports. Together with Right To Play we want to give 500 children the right to sports and play. So with our campaign we want to unite all supporters to support both the professional players and the young children to play. Hence Support & Play.

On which countries will the 'Support and Play' campaign focus?
We focus on the Netherlands and South Africa. The campaign is all about supporting Orange, so directed to The Netherlands. The bracelets are still produced in South Africa, so we keep on contributing to the legacy of the World Cup 2010.

Why do you think it is important that children get educational sports trainings?
First of all because you can reach children through sports. They are eager to come to play and you can implement educational training into this. And secondly because sports is a metaphor for life. It gives you life skills and self-esteem and shows you how to succeed if you play together.

Do you think the 'Support and Play' campaign will be a bigger success than the 'Oranje Campagne'?
That is what we are striving for, yes! We do feel that the World Cup in South Africa was a special occasion, but everybody loves sports and with this campaign we can make it possible for all to play. Everybody has to play with us to achieve this goal. Find out on www.supportandplay.nl.

Finally, do you think the Dutch team will have a change of winning the cup this year?
If everybody wears the bracelet, the Dutch players will feel the support for sure. And that will be the difference between a scoring Arjen Robben in the final or the toe of Iker Casillas again! So we can influence the success!