September 30th, 2013
Veronica Shangali Aswani - WavuNow!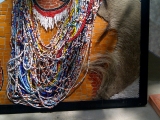 Name: Veronica Shangali Aswani
Organization: WavuNow!

Location: Fourways, Johannesburg, South Africa
What is the mission of WavuNow?
Fight poverty through sustainable social upliftment and growth of the social impact sector. WavuNow does this by empowering underprivileged small businesses to be more self-dependent and sustainable through access to increased revenues from a global market place.
What do you aim to achieve by increasing the sustainability of Social Impact Organisations (SIO)?
Job creation; more revenue; formalization of businesses; income diversification with introduction of new projects such as Bee keeping; improve visibility of the plight of Base of the Pyramid; relevant information reach to Base of the Pyramid such as micro lending, bursaries; stimulate creativity; access to other solution to challenges at the Base of the pyramid such as water storage, sanitation;
With increase of revenue, in the long term, we see the ease to the government's burden on Social grants, which is currently not sustainable and also increase in tax collections.
Could you maybe explain to the other SANEC members what the Base of the Pyramid (BoP) is?
Base of the Pyramid is a description used to identify the largest (about 4 billion people) yet the poorest social-economic group who live with under $4/day. Majority of this group are in Asia, Africa and South America. Just as the pyramid shape is, the base has the largest space i.e the largest number of poor people.
WavuNow have quite particular criteria that you expect from your sellers, could you maybe explain these criteria?
The criteria allow us to select our Sellers according to our mission:
Seller must be from underprivileged background OR support community led project at the BOP
Must have measurable direct impact to the BOP
Willingness to share the story
Must be able to show its social mission
Must identify a Referee or a third party willing to confirm the business and assist in logistics. This can be a leader in the community or any person not directly involved with the business, which constant access to internet and email

How can other SANEC members get involved in your mission?
SANEC members can:
Buy special conference or events gifts from Wavunow
Buy personal gifts from our online shop
Assist in identifying keen distributors of Authentic African products abroad e.g retail shop, etc (we are looking for distributors
Create synergies on developmental issues, knowledge sharing for BOP.
Network, Share experiences with other members and brainstorm on how best we can participate in other business opportunities at the Base of Pyramid
Provide information on what is happening at the Bottom of the Pyramid to interested SANEC members who are Social Innovators
WavuNow has a large range of products, what would be your favourite product at the moment?
That is a tough question as there are many products and all the work created by the talented rural people is wonderful. But to answer your question, I will pick a few:
Wooden Salad Spoons
Christmas ornaments
African Dolls
Mosaic Coasters
Click Here to vist the WavuNow website