14 January 2015
Boskalis and Kotug merge European operations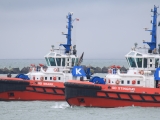 Boskalis and Kotug merge European operations
Kotug International B.V. and Royal Boskalis Westminster N.V. have signed a Memorandum of Understanding to merge their European harbour towage operations.
The year 2014 has been yet another seeingseen a steady stream of interesting developments in the world of tugs and towing. The industry is sending out clear signals of confidence in the prospects for the shipping industry in general, expressed through significant fleet upgrades along with opportunities from new markets such as expanding LNG terminal service provision requirements. Technological developments, particularly in the form of alternative-fuel tugs, driven by environmental regulations have seen collaborations which would have been previously unheard of before now. On the business front, mergers and joint ventures have re-shaped the map of the global towing world.
It is perhaps therefore appropriate that it is in the final two weeks of 2014 that arguably one of the most interesting developments of the year concerning two of the world's major industry players has beenwas announced, the with implications of which extending to beyond the immediate (limited) area of the merging of these two important players.
Both companies saytate the merger is in line with their strategies and ambitions: for Kotug to extend its harbour towage footprint in Europe and for Boskalis in itstheir continued plan to establish regional partnerships for its harbour towage activities. The companies will establish a 50/50 joint venture covering their European harbour towage operations., in the case ofFor Boskalis, through their its activities in the Netherlands and Belgium under the Smit banner; and for Kotug, its their operations in Germany, the Netherlands and the United Kingdom.
The joint venture will cover eleven ports with a fleet of more than 60 tugs, the combined revenue estimated at approximately €150m. One only has to take a birds-eye view of Rotterdam as an example of the potential opportunities for achieving synergies in the operational activities. Both companies operate a fleet of modern tugs of varying abilities, tailor-made to specific requirement ranging from powerful larger units capable of handling the world's largest ships to smaller more 'handy' units serving smaller docks and harbours in the heart of the port. It has to be remembered also of course that Svitzer now have a towage presence in Rotterdam.
Boskalis expects to free upwill make nearly €100m in cash available from for the proposed transaction, primarily from refinancing of activities. Kotug's CEO Ard-Jan Kooren said: "The combined operation will allow us to meet the increasing demands of our international joint clients in order to deliver more efficiency. In a market that is consolidating we can offer competitive services against the highest operational and safety standards within the industry."
The implementation of the joint MoU is subject to customary conditions, including a due diligence process and approval from regulatory agencies in the respective countries, all in close cooperation with each companies various works councils.
Source: Maritime Journal