14 January 2015
Capespan ships first grapes via Walvis Bay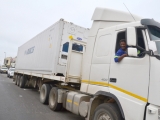 Capespan ships first grapes via Walvis Bay
Namibian grape company, Capespan, shipped a freezer container consignment of grapes to Europe via the port of Walvis Bay. It is the first time that the companyCapespan, which is based in Aussenkehr on the banks of the Orange River, shipped a consignment of table grapes through Walvis Bay for Europe. The company has previously shipped via Cape Town in South Africa.
"It is a dream come true to use a port in Namibia, especially the port of Walvis Bay, to ship grapes from Namibia. The container filled with the sweet tasty Thompson seedless variety, is destined for Rotterdam in The Netherlands," Managing Director of Capespan Namibia, Andre Vermaak, told New Era.
"The freezer container with 3 600 cartons of 4.5kg each was shipped by Capespan on Monday .th e 4th of January The 2014-2015 grape harvest started on November 10 with a bang. Vermaak said if all goes according to plan, this could be the start of a new chapter for the industry where companies in Aussenkehr can use the port of Walvis Bay to export their produce directly from Namibia."
The Namibian grape farmers capitalise on the fact that they can harvest their grapes months ahead of other grape farmers in Europe and elsewhere. "We take advantage of the climate and get about 50 percent of the pre- and post-Christmas market. The cooler weather of September and October also contributed to the huge volume this season," said Vermaak.
Source: New Era