10 April 2014
Open Call Department of Design Cape Town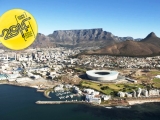 On 8 July 2014, Department of Design opens in Vrede Street, in the Central Business District of Cape Town.
As the main highlight of the Dutch programme for World Design Capital 2014, Department of Design is a strategic incubator for long-term economic partnerships between Dutch and South African partners, based on local demand.
For several weeks, Department of Design will provide a platform for dialogue, knowledge exchange, matchmaking, and building trade relationships between South Africa and the Netherlands. Department of Design will showcase 'best practices' of Dutch creative innovation and design thinking that are relevant to local issues in Cape Town, South Africa, and Africa. These will be presented in workshops and lectures in the STREAM & CURRENTS programme of events, and in the FLOW landscape that houses the activities of Department of Design.
Cape Town's election as World Design Capital has made the city, according to the New York Times, the world's #1 destination to visit for 2014. More significantly, it has put the spotlight on design as a transformative force for South African society.
A network of local partners in Cape Town will collaborate with the Consulate-General of the Netherlands to create suitable matches for Dutch companies and organisations with relevant local parties (business, education, NGO, government) within Department of Design programme.
Registration Deadline: 9 May 2014
More information:
NL: Hester Swaving | Project Manager Department of Design
E [email protected]
SA: Thessa Bos | Coördinator [email protected] Netherlands Consulate General Cape Town
E [email protected]