14 January 2015
DRC makes move to lure the South African private sector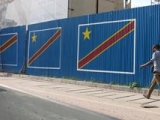 DRC makes move to lure the South African private sector
The Democratic Republic of Congo is intensifying its moves to lure South African companies to do business in the former Belgian colony. The governor of the Orientale Province, Jean Bamanisa Saidi told CNBC Africa that the two countries needed to intensify trade and business relations.
" "We have to increase the level of relationship between DRC and South Africa. South Africa helped us with the Sun City Agreement and we should make sure that the relationship grows," said Saidi.
"The Sun City Agreement was signed between some of the warring parties in the second DRC war in 2002 as a result of the Inter-Congolese dialogue (ICD). The agreement was witnessed by former South African President Thabo Mbeki as well as the heads of state from the region. Saidi said the intention of Mr Mbeki's trip and meeting with business government and leaders was to help enhance that relationship. "
"We are looking for ways of bringing more companies into the country and the province. Through our partnership with PPC Ltd (-3.42%) we are building a very big factory in the Western province," he said. Saidi said there were plenty of opportunities in agriculture, public works, energy, mining, water, construction, health and sanitation. "We are building local enterprises and public professional enterprises and are open to partnering with private companies." He added that it was possible through these partnerships to have plantations of palm oil, rubber and also other farming activities. Saidi said the DRC was making movements towards divestment and decentralisation as new laws introduced alongside the peace accord have brought new opportunities. "Congo is a new country and South Africa is helping us a lot, we have a very good relationship between our two countries," he said.
Source: CNCBAfrica