26 November 2014
Dutch students test unmanned aircraft at the Kololo Game Reserve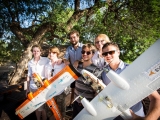 Dutch students test unmanned aircraft at the Kololo Game Reserve
For two weeks Kololo Game Reserve was host of the Dutch UAS team, a student team from Amsterdam and Delft. During their stay, the students tested an unmanned aircraft that can help the ranger protect the rhino against poaching. Poaching is threatening the rhino with extinction, as last year 1004 rhinos were poached and this year that record is broken again. The unmanned aircraft that the students developed is equipped with cameras and is meant to monitor the habitat of the rhino. The footage of the on board cameras is sent to computers on the ground, which automatically analyze the footage to spot humans and rhinos. Subsequently, the computer warns the ranger if it spots any suspicious activity in the park. So the technology finds rhinos and poachers, so that the ranger can focus on protecting the rhino. The developed unmanned aircraft is a useful tool for rangers to improve the security of the vast habitat of these beautiful animals.
The Kololo Game Reserve is a Fair Trade certified game reserve located in the province of Limpopo and is part of the Waterberg region. With Dutch owners and South African management, Kololo has guided the team during their trip to South Africa and the Kololo gateway to the Welgevonden Game Reserve allowed the team to test the unmanned aircraft in a real world scenario. Various tests took place within the Welgevonden Game Reserve in collaboration with local rangers who introduced the team to the bushveld, the animals and the environment. All in all, the tests were a success for the students of the Dutch UAS team and they are now preparing themselves for the next step in their mission to save the rhino.
You can get further involved with the team by clicking here.
Watch the video (viewer discretion is advised)