30 September 2013
Giving SA Manufacturing a Boost!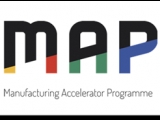 The founding members of the Manufacturing Accelerator Programme (MAP) - ISAH, Rifle-Shot Performance Holdings and SANEC - have signed a memorandum of agreement with the board of the South African Capital Equipment Export Council (SACEEC) to promote good manufacturing practices within the country. Through this memorandum of agreement, the parties involved hope that the South African manufacturing industry will once again reach a leadership position in the world summit ranking of manufacturing.
Over the last 20 years, the manufacturing industry in South Africa as a whole has shrunk dramatically, dropping from the 34th position to the 53rd position. MAP was therefore developed and launched in October last year with the purpose of revitalising the South African manufacturing industry and creating a substantial number of new job opportunities in the country. In the MAP programme, suitable tools for the company are proposed and recommended from an extensive knowledge base of trusted partners with specific industry focus, track records of innovation and delivery over at least two decades, and highlighting recognised leaders in their specific manufacturing industries.
MAP works through sector or cluster organisations to implement the programme at groups of companies across their member base.
MAP is based on four pillars:
· Strategy building and awareness
· Usage of SmartIT
· Mentoring and training
· Capital investment
These four pillars provide entrepreneurs with a complete and easy to implement package of skills, tools and services to endure sustainability. It is proven that where continuous improvements are made, the company continues to operate and prosper.
MAP is similar to programmes that are running in the United States known as "Take Back Manufacturing". Ian Huntly, CEO of Rifle-Shot Performance Holdings, said they already had selected four companies to join the programme and will have chosen a total of 20 organisations for the initial project launch date of 17 October.
All participating companies will be offered a specialised management and financial plan endorsed by the SACEEC members.