8 November 2016
KLM extends its network to Windhoek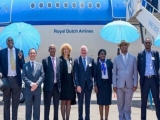 Since 30 October 2016, KLM Royal Dutch Airlines has expand its flight destinations in Africa by flying to Windhoek, Namibia. The flight is with a small transfer in Luanda, Angola and flies three times a week. They will be departing from Amsterdam on Tuesday, Friday and Sunday. The return flights are on Wednesday, Saterday and Monday from Windhoek.
Namibia and the Netherlands have had cordial diplomatic relations since 1990 that were transformed over the years to focus on strengthening trade, economic and investments ties. Air connectivity can only enhance the attractiveness as a global city and truly transform Namibia as an international business centre and logistic hub in pursuit of the Harambee Prosperity Plan and National Development Goals.
Windhoek is the 12th KLM destination in Africa.