31 July 2014
Meeting Desmond Tutu with Close the Gap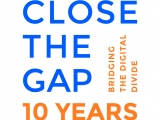 Closing the Gap between Generations
Quoted from Close the Gaps' Inge Gondwe, Deputy General Manager and Operations (Director)
"Our inspirational trip to Cape Town was a huge success! All Dutch and Belgian business leaders and their teenagers assured us that it was an unforgettable experience. It is not every day that parents get to spend 1 on 1 time with their teenager children in such a setting filled with life-changing experiences. I believe it was Volkert Engelsman from EOSTA who said and I quote "This kind of trip should be repeated under the name "Closing the Gap between Generations".
"On the first day we visited the Langa Township, the oldest "black" township in Cape Town and an area that buzzes with creative energy and is filled with culture and heritage. The Langa Heritage "Dompas" museum, which was once an ID pass office and court in the apartheid era, gave all our visitors an insight in to the apartheid system in South Africa. "Dompas" quiet literally means dumb pass. During apartheid all black people outside the confines of their government designated areas were legally required to carry these ID passbooks. Failure to produce one resulted in a fine, arrest, or deportment.
It was great to see that entrepreneurship is also flourishing in the Langa Township. One example is the Langa Quarter project, which aims to empower the residents of Langa through the creation of a sustainable tourist destination in the community.
The next day our group was split in two. The teenagers spent the morning experiencing the cultural exchange with the local youth at the Desmond Tutu HIV Foundation Youth Centre in the Masiphumelele Township. After some ice breaking exercises, the group had the opportunity to peak through the window of each other's lives and culture. Afterwards the group went in to the township; seeing the reality of life combined by joy and creativity left a huge imprint.
Desmond Tutu gave an inspiring message in reply to this cultural exchange between the youth of South Africa and of Europe: "I would not know who I am was it not for other people". Dutch Minister of Foreign Trade and Development Cooperation, Lilianne Ploumen also joined this intimate meeting for a short intermezzo.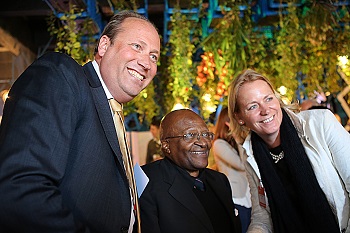 That same morning the adults visited the Amy Biehl Foundation. This foundation uses a thematic approach across subject areas they teach students to apply and demonstrate skills and knowledge and to analyze and address community needs. The adults joined the youth in the afternoon at the Desmond Tutu HIV Foundation Youth Centre to share the experiences of that morning. Both these foundations provide IT training to the youth to increase their skills and resilience. These computers labs are supported by Close the Gap.
On the last day, the parents and teenagers met with Nobel Peace Prize winner Archbishop Desmond Tutu during a private meeting. One of the questions that the youth posed to Desmond Tutu: "What was the happiest moment in your life?" His answer: "The birth of my first born son. This was a very joyous occasion."