16 February 2017
Naspers' ShowMax expands to Poland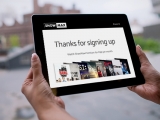 SANEC board-member Naspers launched its internet TV service ShowMax in Poland. The TV service started in South Africa and since then expanded to more than 60 countries. Now they have opened doors in Poland with a new service that utilises the current ShowMax platform and Polish language apps.
The content on the service has been tailored specifically for Poland with a strong focus on local TV shows and movies. Poaldn has vibrant TV and film production industry, and for launch ShowMax has aquired exclusive rights to a range of popular local shows including poltical satire Ucho Prezesa (Ear of the Chairman) as well as a catalogue of the most sought-after movies by Polish directors. These include the 2016 box office hits Putbill and Planeta Singli. Plans are also underway for original productions.
ShowMax Poland is tackling thee key consumer challenges, namely having access to local content so people do not feel the need to resort to pirate sites, helping subscribers discover relevant new content, and having conveniently accessible, high-quality video free from the malware sometimes present on pirate sites.
Source: Naspers