31 March 2015
New $2.5bn Port may alter the trading dynamics for Southern Africa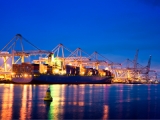 The Southern African Development Community (SADC) Gateway Port, aimed at catering for commodity exports and imports between landlocked countries in the region, is expected to come alive soon. This was confirmed after its first phase, the construction of an oil terminal, was billed to be completed this year.
Costing N$30 billion ($2.45 billion), the port represents a bold and ambitious move, and will be constructed in 5 phases as demand for goods and services pick up pace locally.
When completed, the new port is expected to match the size of the Walvis Bay Harbour, Namibia's largest commercial port which processes about 5 million tonnes of cargo every year. Experts believe the combined GDP of the landlocked SADC nations that will use the port stands at about N$2.36 trillion ($193 billion) and annual exports and imports from these countries increase at a pace somewhere between 5 and 7 percent every year.
During a breakfast meeting set up to provide updates on the expansion of the port, Elzevir Gelderbloem, Namibia Ports Authority engineer, said; "The contract was awarded already and construction is expected to start this month while the phase itself will be commissioned in 2017. Construction equipment will soon be mobilized and, in a short time, the left side of the road between Bird Island and Kuisebmond will be a hive of activity," he explained.
After the first phase, estimated to cost about N$4 billion ($328 million) is complete, the second phase of the SADC gateway port will zoom in on the construction of a Liquefied Natural Gas (LNG) terminal, which will generate the gas feeding into a new power plant that will supply the Gateway Port with water. The gas terminal will cost about N$6 billion ($492 million) and is expected to be completed by the end of 2016.
The third phase will see the construction of a multi-purpose bulk oil terminal capable of processing as much as 10 million tonnes of cargo per annum, twice the known capacity of the Walvis Bay; and the fourth phase will consist of a ship and rig repair yard.
Providing information on the fifth and final phase of the project, Gelderbloem said; "As for phase five, the Botswana Coal Terminal that will handle about 100 million tonnes of coal (per annum) will be a storage facility for coal imported from Botswana. Due to Namibia's central location, Botswana opted to export coal to their international clients via the port of Walvis Bay."
Although the economic gains are likely to be huge, there are concerns over the degree of environmental degradation an infrastructural initiative of this magnitude can cause.
Source:hellenicshippingnews