13 August 2015
Ambassador lights up homes with Eye for Others in South Africa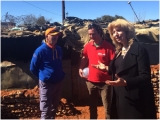 SANEC members Eye for Others and Solar works team up!
Pressrelease: DA Northern Cape welcomes the new Ritchie Rainbow Centre in Ritchie – enrich peoples' lives
The DA welcomes any organisation, private entity or individual who lends a helping hand to communities in rural areas in the Northern Cape in order to better their living conditions, alleviate poverty and to enhance the skills of the residents. Therefore the DA would like to express its gratitude towards the NGO from Netherland, Eye for Others, who initiated and helped to open the Ritchie Rainbow Centre today in this small town who suffers many socio economic problems.
The centre, situated at the old Twee Riviere Primary School premises, will in future serve as a home for Kagisho Centre for Disabled Children. They will have a brand new classroom where they will be learned different activities and skills and also making the day shorter for the little ones. Two other classrooms will be utilised for different skill courses. Anyone will be able to present courses for people to enhance their skills such as welding, agriculture related projects, home care for the frail, etc. This centre was established by Eye for Others and in person, Ton van der Smit, project leader. Although planning has begun a few months ago, a group of 50 volunteers from Netherland arrived in Ritchie last weekend to help at the centre. They laid tiles, painted, removed rubble and also presented activities for the youth such as soccer, painting and playing games. According to Van der Smit the volunteers had one year to raise funds for the project. Each person had to collect R30 000.
We as the DA is very excited about the centre and believes that many children and adults will find much positive inputs into their lives. Ritchie needs such a centre. Thank you too to the communities of Magersfontein Golf Estate, Modder River and Ritchie who has offered their time and help to establish the centre. The DA is also delighted about the sponsorship of 500 solar lights to the residents of Ritchie. This is remarkable and will be able to give some light in dark times during power cuts especially where there is small children or elderly people in the house. If everyone could take the time and give just a few minutes away to its fellow person – imagine what great world we would be living in!
A good head and a good heart are always a formidable combination.- Nelson Mandela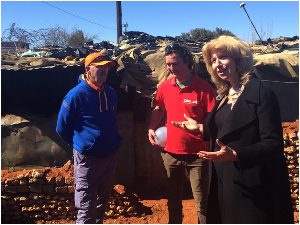 Ritchie1: On Wednesday (5 August) the Ambassador of the Netherlands in South Africa, Ms Marisa Gerards (far right), and the CEO of Clover's Mama Afrika Project, Prof Elain Vlok (second from the left), attended the official opening of the Ritchie Rainbow Centre in Ritchie. Next to them are Messrs Arnoud de Vroomen (far left), Managing Director of Solarworks, who sponsored the solar lights, and Ton van der Smit, project leader of Eye for Others.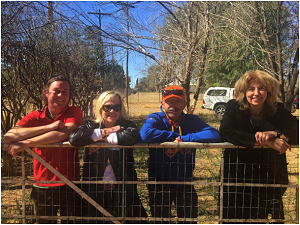 Ritchie2: A business in solar lighting sponsored 500 solar lights (where even a cell phone can be charged from) to residents of Ritchie. From the left are Arnoud de Vroomen, Managing Director of Solarworks, Ton van der Smit, project leader of Eye for Others, and Ms Marisa Gerard, South African Ambassador of the Netherlands.
Media enquiries: Clivé Burger Provincial communication manager: Northern Cape 083 708 3974