22 May 2014
Rhenus Air enables Rhenu Tora Logistics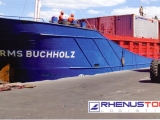 The days when transporting cargo in Mozambique necessarily meant heavily loaded trucks nervously negotiating dusty, potholed roads are finally over.
There is now another option for shippers and freight forwarders. A new cabotage service operated by Rhenus Tora Logistics has revitalised the Mozambique market and opened up a sea of possibilities for transporting freight.
Rhenus Tora started operations in the second quarter of 2013 with three vessels. The RMS Voerde has a capacity of 124 TEUs and operates on a 10 day rotation calling at Maputo, Beira and Nacala. The RMS Buchholz plies its trade along the same route and has a capacity of 149 TEUs. The third vessel –the 46 TEU RMS Pemba- will operate in the ever-developing north of the country, serving ports that currently service smaller markets but which have the potential for enormous growth. The service will connect Nacala with Pemba and Quelimane approximately every 10 days.
Rhenus Tora's cabotage service has been a challenge to establish because it has entered a fiercely competitive market, especially as Mozambique hasn't benefited from a cabotage service for the past few years. But that has simply made the company more determined to succeed and already, it is rapidly gaining the trust of clients and challenging the established trucking companies for business. The company believes that using the sea is more reliable method of transportation as trucking can be unpredictable, particularly in the rainy season when flash floods can render sections of road impassable. Cabotage also has the benefit of being considerably cheaper than trucking, a critical advantage given the uncertain global economic conditions. Price isn't the only selling point for the companies services, however. A vital part of the cabotage service is the flexibility it offers.
Rhenus Tora's vessels are relatively small, at around 80 metres, and so can slip easily into even a congested port. At beira, for example, the vessels can manoeuvre easily between larger ships and can dock even when two larger vessels are already on the quay. And at the T-shaped jetty of Pemba port, the RMS Pemba can easily berth on the inside of the "t"- so it doesn't matter if the outer quay is already occupied. This adaptability ensures schedules remain reliable. Not surprisingly,
Rhenus Tora has already won major contracts with the beverages industry and is in negotiations for a wide variety of other cargoes that would benefit from the reliability of sea transportation. A second phase of company development will welcome more vessels to the fleet, each of which will be designed specifically to handle containers and break buld. Up to 10 vessels have been made available to Rhenus Tora to handle anticipated growth. Already, there are strong indications that the service will be extended to Durban in South Africa and possibly to Dar Es Salaam in Tanzania in the future.
For more information about this new service of SANEC member Rhenus Air, please look at the published article here.