4 March 2015
Saldanha Bay on the South African West Coast receives a R9.65 billion investment Boost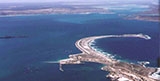 Saldanha Bay on the South African West Coast receives a R9.65 billion investment Boost
A R9.65-billion investment in infrastructure projects at Saldanha Bay, on South Africa's West Coast, was announced by the Transnet National Ports Authority on Monday. These are aimed at enhancing the deep-water port's ability to service the offshore oil and gas industry. TNPA, a division of state-owned entity Transnet, is mandated to control and manage all eight commercial ports on South Africa's 2,954km of coastline.
The project falls under the government's "blue economy" plans of its Operation Phakisa initiative, announced by President Jacob Zuma in 2014. The aim of the project is to clear infrastructure bottlenecks that may be constraining economic growth.The 330ha Saldanha Bay industrial development zone was designated in 2013 as a zone dedicated to serving the oil and gas industry. It has attracted strong interest, mainly from fabricators. Saldanha Bay supports the export of the iron-ore mined in the Northern Cape province, which currently stands at around 57-million tons a year.
Willem Roux, Saldanha Bay port manager, told a press conference on Monday that the TNPA sees an opportunity in serving the oil rigs operating on the west and east coasts of Africa, Business Day reported.
Roux said about 120 rigs passed South Africa's coast every year. "We know if we do not use this opportunity now to capture this market, other ports in the southern hemisphere will gear themselves to capture it," the newspaper quoted him as saying.
The TNPA has issued tenders to invite public-private sector participation in the projects. According to Business Day, these include:
The construction of a new rig repair quay, 380m long and 21m deep, to serve modern rigs that require extra depth. The quay will be able to serve two rigs simultaneously;
Lengthening of the Mossgas quay from 38m to 500m, with a depth of 8.5m. This will allow it to accommodate floating docks;
Building of an offshore supply base which will serve as a one-stop shop to supply oil rigs with services such as food, materials and waste collection.
To continue reading click here
Source:Southafrica.info