18 December 2013
SANEC and the Limpopo Economic Development Agency (LEDA) sign Representation Agreement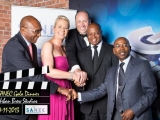 Johannesburg, 4 December – The Southern African Netherlands Chamber of Commerce (SANEC) and the Limpopo Economic Development Agency (LEDA) have signed an agreement in which SANEC is appointed to represent the agency in both South Africa and the Netherlands. The new agreement addresses a variety of activities that promote Limpopo, provide access to the Netherlands, and attract Dutch investors to the Limpopo province.
The agreement was signed at SANEC's annual gala dinner at the Urban Brew Studios in Randburg, Johannesburg.

LEDA and SANEC have cooperated before on numerous projects. The agreement revives a pre-existing relationship and takes it to the next level. The main focus of the cooperation will be on investment facilitation and import - export promotion with the Netherlands.

The partnership will also increase the exchange of information in the fields of agro processing, manufacturing, transport, logistics and port and corridor development. This collaboration is based on various complimentary sector development programs in which SANEC is involved and has access to.

Holland: Agro-hub
The Netherlands is one of the world leaders in the development and implementation of agro-processing technology and methods. One of the proposed projects in which Dutch technology and expertise can be linked to the local needs, is a fresh produce market in the far North city of Musina in Limpopo. "The Netherlands has extensive experience in setting up and managing efficient food hubs linked to transport corridors. It has also developed into one of the largest producers and exporters of fresh produce" according to Froke Gilsing, General Manager of SANEC in South Africa. She adds to this that "This could only have been achieved by innovation and technology as well as planning and efficiency."

Manufacturing and export promotion
SANEC and LEDA will also be cooperating in export promotion and manufacturing; the Limpopo province has an incredible potential in manufacturing for a wide range of products. The vast majority of processing currently takes place in South Africa's economic centre Gauteng. With the influx of technology and expertise, manufacturing could be expanded in the Limpopo province ultimately bringing economic development, employment and growth.

SANEC has established an export promotion desk to stimulate exports from South Africa to the Netherlands/EU. The Limpopo province, with its vast production of exotic fruits and vegetables, has drawn the interest of the European consumer. SANEC will advise on Netherlands/ EU requirements, custom regulations and, most importantly, 'fruitful' trade relations.